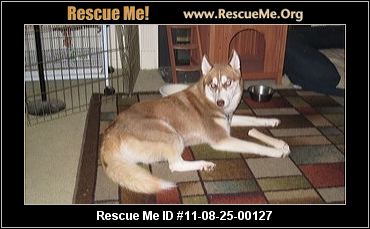 Rescue Me ID
:
11-08-25-00127
Kiska
(female)
Siberian Husky
Age:
Young Adult
| | |
| --- | --- |
| Compatibility: | Not Good with Other Dogs, Good with Kids and Adults |
| Personality: | High Energy, Very Dominant |
| Health: | Spayed, Vaccinations Current, Aggressive |
I need your help! We have a 2 year old red and white Siberian Husky. Kiska is spayed and obedience trained. We have 4 other dogs. (Australian Shepherd, Aussie mix, Shih Tzu, and Miniature Pinscher) Kiska was the 5th dog added to our pack. In the last 6 months she has become very aggressive to the other 4 dogs and has injured 3 of them to the point that they all 3 needed vet attention. We have had her since she was 14 weeks. We rescued her from a person in NC that had rescued her from a breeder than was neglecting the puppies and she was almost starved to death. Since we acquired Kiska, she has thrived in our home and although her ... (Read More)growth is stunted, she weighs about 34 lbs. She is a very affectionate dog and to be quite honest, the most obedient of our 5 dogs. She has completed basic obedience at Petsmart. My husband and I, as well, as our son, have been bitten breaking up fights between Kiska and the other 4 dogs. She also freaks out when she has her nails clipped. We have to muzzle her and still just about have to have 2 people holding her and one clipping. We have never cut her quick in her nail. Her toenails are pink, so I can see the quick. This is just a behavior she has for control I am guessing. She has most of her fights with our Australian Shepherd. The Aussie is about the calmest dog you would ever meet.....and Kiska has chosen her to constantly fight. We have dog gates at every opening in our house to keep them separated. We let the dogs out of separate doors to avoid a confrontation, as well as feeding them in different rooms to avoid a fight. The last 6 months the fights have escalated to the point that there is bloodshed. Kiska knocked out one of the Australian Shepherds front teeth, she attacked our Miniature Pinscher and punctured her neck about a cm. from her jugular vein, and then attacked our Shih Tzu (who avoids any kind of confrontation with any dog and is just the sweetest dog) and bit him him just above his eye, again missing his eye by less than an inch. This all happened in a week and a half. At this point we had to start using a muzzle in the house when she is around the other dogs. We let the other 4 dogs out and keep Kiska inside, then let her outside when they are inside to avoid any fights. I have contacted our local SHINE Siberian Husky rescue and heard nothing. I have talked to two of my vets and we have tried calming medications to no avail. She is the sweetest dog one on one with us when the other dogs are not around. She is fine around dogs at Petsmart. The aggression seems only to be within our pack of 5 dogs. She will be fine one minute and attack with no warning whatsoever. She does resource guard. She is fine around people, kids, small kids and other dogs we have come in contact with. It seems only to be within our pack. We have tried to rehome her for the last month. The other 4 dogs are terrified of her. The Aussie hides under the bed. The Shih Tzu hides in the hallway so he has a wall between him and her at all times and he WILL NOT walk in front of her for fear of being attacked. The 4 dogs are so relaxed and play together when Kiska is outside or in her crate. They are living on pins and needles not knowing when she will turn on them. I want to disclose everything because we are planning to have her euthanized Monday at 5:45pm unless you can guide me in another direction. She has bitten me when I have had hold of her collar and she didn't want to come with me. She has bitten me while I was clipping her toenails, and of course when I have broken up many fights. My husband has been bitten when holding her to have her nails clipped and when breaking up fights, as well as our son that is 17. We were wanting to try to find a home where she could be an only dog. But will that be a safe place? Should we go ahead with euthanasia? We are so torn, but cannot continue to live our lives with 24/7 stress in the household and the other dogs so fearful of her. It isn't fair to Kiska to be muzzled all the time either. This is the only choice we have at the present time. Do you think she would be adoptable to someone that does not have any other dogs? We have struggled with this decision for a couple of months now and our vet has warned us that the 'next time' might be fatal to one of the other dogs. She has also bitten the Miniature Pinscher another time where she required stitches, as well as recently when she bit her neck and punctured near her jugular vein. Sincerely, Jill Van Dyke We live in the Williamsburg Va area. 757-870-6168 (Less)

Animal Location:
James City County
Toano, VA
MAP IT!
| | | |
| --- | --- | --- |
| Contact: | Jill Van Dyke 757-870-6168 | EMAIL |